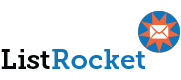 We're sorry, but the ListRocket email marketing system has been discontinued.

There are excellent alternative third-party email marketing systems available today. To help determine the best option for your needs, we recommend referring to G2 Crowd's comparison of top email marketing platforms here.

If you have any questions, please contact our support team at support@listrocket.com.

Thank you.